All Honor Bowl Games will be Streamed Live on Facebook Live
The Honor Group are pleased to announce that all 8 games of the 2018 Honor Bowl will be able to be watched live ( and on demand! ) via Facebook Live! The convenience of having games available online is the ease to watch, share, comment and enjoy. The importance of this announcement is everything that occurs at the games will be part of the broadcast. We look forward to bring a patriotic and educational experience along with fantastic High School Football.
NorCal Honor Bowl - August 24-25 at Saint Francis in Mountain View, CA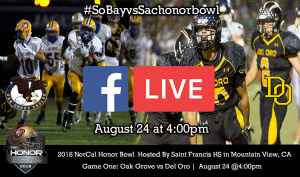 Game One: August 24 at 4:00pm
Oak Grove (San Jose, CA) vs Del Oro (Loomis, CA)
Here we go – Game 1 of the 2018 Honor Bowl. Two teams that have never matched up against each other. Both teams have accolades of league championship rings. Both programs bring it. Both teams have new coaches that will do their best to continue the traditions each programs have sustained over the decades.

Game Two: August 24 at 7:30pm
Saint Francis (Mountain View, CA) vs Notre Dame (Sherman Oaks, CA)
Friday Night Lights at Saint Francis High School's Beautiful Ron Calcagno Football Field in Mountain View. Two great programs with something in common. Both schools that are Brothers of Holy Cross. Both have never played against each other. This one is NorCal vs SoCal Bragging rights. Saint Francis vs Notre Dame.
Game Three: August 25 at 12:00PM
Archbishop Mitty (San Jose, CA) vs Oakdale (Oakdale, CA)
Day 2 of the 2018 Honor Bowl and this first game on Saturday will be a great one. Two teams that bring it every day in practice and play for both pride and character. This is a common theme for both coaches who preach that winning is beyond X's and O's!

Game Four: August 24 at 4:00 Gilroy (Gilroy, CA) vs Liberty (Brentwood, CA)
Game 4 on Saturday in Mountain View will be an offensive explosive game. Both teams have a strong returning squad and have a yearning to repeat as their respective section champions. The Honor Bowl tries to matchup teams that would rarely play each other and have a local team that brings it on game day. The great news is that both Liberty and Gilroy have fans that travel and root their teams during each snap, each drive until the final seconds tick off the clock. Both coaches jumped to be in The Honor Bowl and have a chance to educate their team and school about what this event entails.

Game Five: August 25 at 7:30pm
Serra San Mateo (San Mateo, CA) vs Serra Gardena (Gardena, CA)
Two storied programs that share the same name and Catholic leadership will meet for the first time in the final game of the 2018 Honor Bowl hosted by St. Francis High School in Mountain View, CA. Both Serra Gardena Head Coach Scott Altenberg and Serra San Mateo Head Coach Pat Walsh jumped at the chance to a dream match-up that has never happened.
SoCal Honor Bowl - September 1 at Cathedral Catholic in San Diego, CA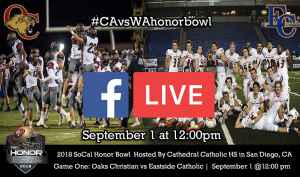 Game One: September 1 at 12:00pm
Oaks Christian (Westlake Village, CA) vs Eastside Catholic (Sammamish, WA)
Game 1 of the SoCal 2018 Honor Bowl brings two teams that have been in prior Honor Bowls but have never played one another. Eastside Catholic is a perennial powerhouse from the Northwest and will bring a well-coached football machine. Oaks Christian is a strong CIF Southern Section contender that has a long lineage of players that make recruiters salivate, especially with the #1 recruit in the nation. This could easily be the National Game of the week!  

Game Two: September 1 at 4:00pm
Helix Charter (La Mesa, CA) vs Saguaro (Scottsdale, AZ)
Game 2 of the SoCal 2018 Honor Bowl is another HUGE match-up. Helix, out of the San Diego area has consistently competed in sections and state championships. Saguaro has too – they currently have 5 straight State titles. Head Coach Jason Mohns has wanted to get in an Honor Bowl game and we are so pleased it worked out. Oaks Christian will be led by newly named Head Coach Charles Collins and will continue the long tradition of quality, hard work and well deserved rewards in post season success.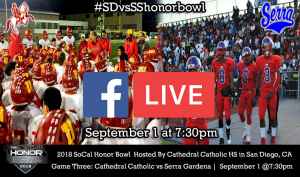 Game Three: September 1 at 7:30pm
Cathedral Catholic (San Diego, CA) vs Serra Gardena (Gardena, CA)
This the finale of the 2018 Honor Bowl. No strangers to the Showcase this will be the first time both teams will have the opportunity to play one another. Head Coach Scott Altenberg has been in every Honor Bowl and this year his team will be the first to have back to back Honor Bowl games. Cathedral Catholic is the host for the SoCal event two years in a row with a campus that rivals a college campus. Get ready for athleticism and well coached teams in this match-up.