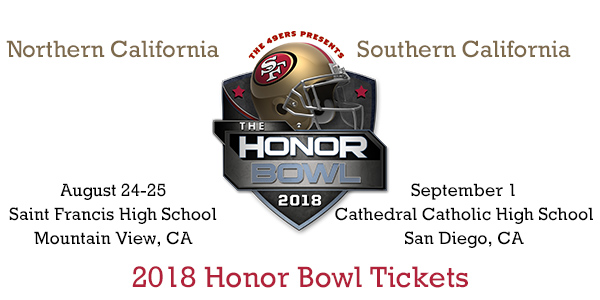 2018 Honor Bowl Tickets will be available at the gate for both the Northern California and Southern California Events.
We have also provided an online ticket portal so you can pre plan and avoid lines at the stadium.
There is a $1.50 per ticket addition for convenience and handling fees.
Ticket prices purchased at the gate are the following:
Northern California Honor Bowl - Mountain View Friday August 24
Adult Ticket -- $10.00
Senior(65+)/Student (with ID)/Child(12+) -- $5.00
Northern California Honor Bowl - Mountain View Saturday August 25
Adult Ticket -- $15.00
Senior(65+)/Student (with ID)/Child(12+) -- $10.00
Southern California Honor Bowl - San Diego Saturday September 1
Adult Ticket -- $15.00
Senior(65+)/Student (with ID)/Child(12+) -- $10.00
ONLINE TICKETS